VENTUS PRO – a new line of Air Handling Units in VTS Group offer
Dear Ladies and Gentlemen,
We would like inform you that the VTS Group expands its portfolio by units dedicated to ventilation and air-conditioning technological processes, as well as to ventilation of pools.

It is a family of VENTUS PRO devices.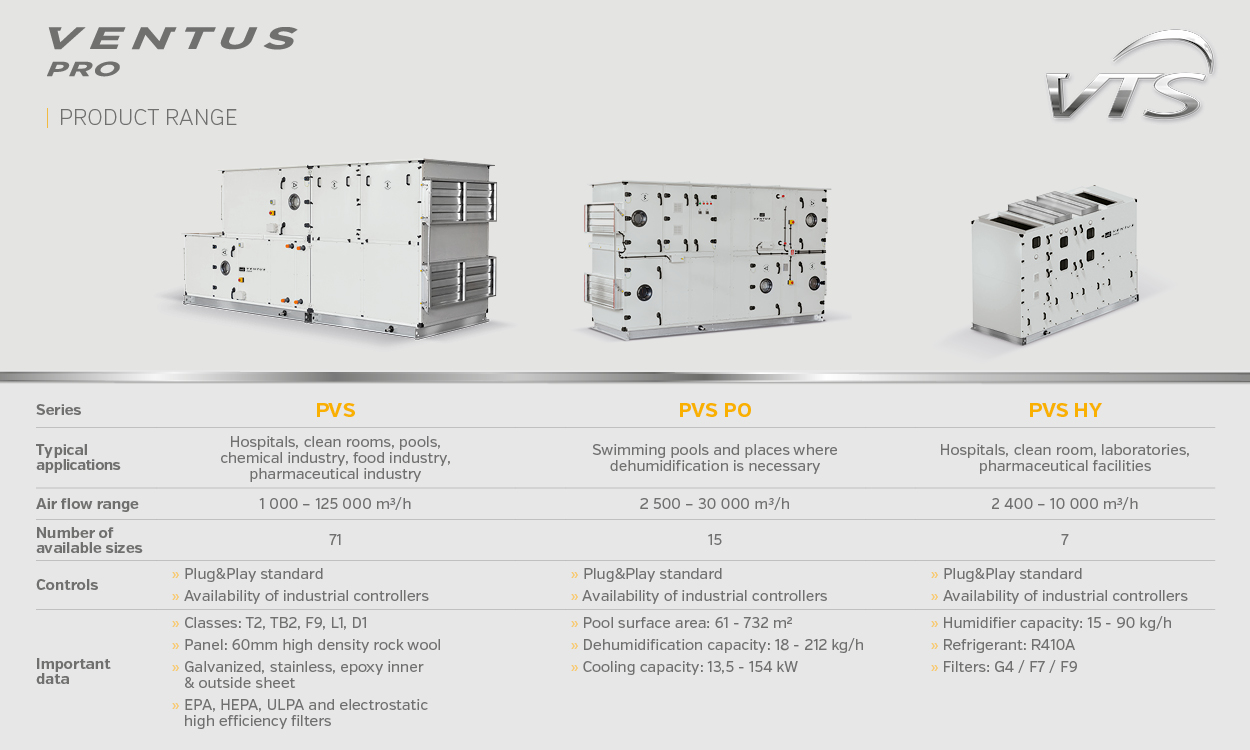 The new family comprises the following product series:
1. PVS series – units adapted to individual design requirements with regard to:
Size and efficiency of device
There are 71 devices which cover the scope of efficiency from 1 000 m3/h – 125 000m3/h.
A panel of 60 mm made of rock wool 70kg/m3 covered on both sides with a sheet metal of 0.8 mm – 1 mm thick with a selected anti-corrosion protection such as: galvanized, powder-coated, epoxy coating, stainless steel.
A skeleton casing based on aluminium, steel or plastic profiles depending on needs.
An available frame from 60 mm to 200 mm high.
There are available special designs where devices are made in line with hygienic standards or rigorous industry standards such as: DIN 1946-4, EN 13053, EN 1886, VDI 6022 or VDI 3803.
There are available designs for ventilation of explosion risk rooms (ATEX standards).
Controls option in the Plug&Play standard and in the standard of mounting on a facility. Controls equipped with industrial controllers made by: Loytec, DDCTech, Carel, Siemens and HMI by such companies as: Delta, Schneider, Siemens.
Versatility of fan drives
There are available both PLUG and DIDW fans. The fans are operated, depending on needs, by EC and AC motors with industrial frequency converters of such companies as: Danfoss, ABB, Schneider.
PVS series has the EUROVENT certificate confirming fairness, repeatability and accuracy of data. The casing design is available in the top classes according to
EN 1886.

Universality of unit's components




Heat recovery: plate, rotary, glycol, heat pipe

Filters: metal, grease, unwoven fabric, EPA, HEPA, ULPA and electrostatic

Humidifiers: adiabatic and steam

Coolers: water, DX, adiabatic.
2. PVS-PO series – compact Plug&Play units dedicated to ventilation of pool rooms with surface area of 61 m2 – 730 m2
15 size of the devices up to 30 000 m

3

/h
Minimum energy consumption
Fully automatic work with an internal automation system – Plug&Play
Automatic control of fresh air proportions depending on needs
High-efficiency heat recovery system of heat pipes to minimise energy and operating costs consumption
Air flow control and constant air flow function in real time
High-efficiency cooling system with scroll type compressors
Protection of components with an epoxy resin.

3. PVS-HY series – compact Plug&Play units with a dedicated hygienic design consistent with practices and industry provisions, as well as such regulations as: VDI 6022, EN 1886, DIN 1946-4 and EN 13053.
PVS-HY units are a series of devices designed to rooms with special hygienic requirements.
7 size of devices designed to air volumes from 2400 m

3

/h to 10 000 m

3

/h
Structure and components made in the hygienic standard allowing to easily clean and preventing bacteria and viruses from depositing
All connections and dampers are tight and insulated
Two-layer panels minimising condensation (T2-TB2)
Internal surfaces made of stainless steel without any indentations or projections
System for effective condensate discharge and drip tray drying.
For more information, please contact with our sales engineers.
VENTUS PRO catalogue - DOWNLOAD.